DIPPING PLEASURES
Marinara • Ranch • Honey Mustard • BBQ • Dill Dip • Thousand Island • Buffalo • Bleu Cheese • Horseradish
Additional Sauces .35 Melted Cheddar Spread $2.69
DEEP FRIED CHEESE CURDS
It's like gold...but cheese!
Small (8oz.) $7.99, Large (14oz.) $10.99
MOZZARELLA STIX (8)
Deep fried stix of gooey mozzarella goodness. $7.99
CHICKEN STRIPS (5)
$7.99 or add french fries for $2.00
ONION RINGS
12oz. of deep fried breaded rings... of onion. $7.99
COMBO BASKET
Curds, stix, strips, and onion rings. $11.99
PRETZEL BITES
15-18 pretzel morsels served with nacho cheese. $7.99
MACHO NACHOS MAN
Tortilla chips w/ nacho cheese and our homemade chili onions, olives, jalapenos, & sour cream upon request. $11.99
PATRY PLATE
Hand-sliced salami and summer sausage, Swiss, Cheddar, and Colby cheese, sweet pickles and crackers. $11.99
SAUSAGE SAMPLER
Traditional, Veal, Cajun, Garlic, Polish, and Cheddar w/ red cabbage, kraut, sweet pickles, & crackers. $13.99
SPINACH ARTICHOKE DIP
Served with tortilla chips. $9.99
BROASTED WINGS (8)
Naked * Buffalo * Hot n' Spicy * Insane * BBQ * Teriyaki
Served with celery & ranch or blue cheese. $9.99 / .85 cent wings on Sundays!
Served with choice of Potato and choice of Saurkraut, Red Cabbage, or Coleslaw.
Traditional
"Our Wurst is Furst!" $9.49
Cajun
"Nawlins cuisine at its Wurst" $9.99
Garlic
"It will make your breath the Wurst" $9.99
Veal
"Pork problems? Your Wurst cravings are covered" $10.29
Cheddarwurst
"Your Wurst is better filled with cheddar" $10.29
Jalapeño Cheddarwurst
"Just say Holla! What's the Wurst that could happen?" $10.29
Polish "Wurst"
"To "Wurst" jest dobre, mmmmmmm!" $10.29
Frankfurter
"It's a Wurst. It's a Hot Dog! It's a Frankfurter!!!" $9.99
Two Brat Plate
"Go ahead... Do your Wurst!" $14.99 / Polish Wurst add $1.00
Served with choice of potato and pickle spear. Upgrade to cheese curds or onion rings for $3.29 Add soup or salad for $2.29 Add coleslaw for $1.00
Say Cheese, Grilled Please
Choice of white, wheat, light, dark, or marble rye choice of 2 cheeses, w/ or without tomato. $6.99
Save a pig, eat a burger
Choice beef patty on a toasted bun w/ pickle chips lettuce, tomato, and onion available upon request. $7.99
Make it a chicken breast or brat patty for $1.00 more
The B.S.B.L.T.
Bacon, tomato, lettuce, and mayo on white toast. $8.99
Nothing Corny about it
Thin sliced corned beef on buttered light rye bread served hot or cold, horseradish upon request. $9.99
Where Reuben All My life
Thin sliced corned beef, sauerkraut, and Swiss cheese on dark rye, Thousand Island dressing on the side. $10.99
Ribeye for the hungry guy
6 oz. hand-cut ribeye steak on a brat bun topped w/ grilled onions & mushrooms. $10.99
There's beef between us
Roast beef served on French bread w/ a side of au jus giardinara or sweet peppers available upon request. $11.99
Prime Time for prime
8 oz. cut prime rib served on a toasted bun w/ a side of au jus, horseradish available upon request. $11.99
The Tony Sub(prano!)
Pepperoni, hard salami, summer sausage, mozzarella & provolone, on French bread w/ lettuce, tomato, & onion. $11.99
Supporting Cast
$0.50 Tomato * Lettuce*Onions * Jalapenos * Giardinara
$1.00 Blue Chz Crumble * Grilled Mushrooms * Grilled Onions*Grilled Sweet Bell Peppers
$1.50 Avocado * Bacon * Fried Egg*Plate of Pickles - Chips * Spears * Sweet
$2.00 Ham * Turkey * Salami * Summer Sausage * Beef Patty
$3.00 Brat Patty * Butterflied Brat * Chicken Breast
Cheese Effects
$1.00 American * Cheddar * Mozzarella * Swiss * Muenster Brick * Colby * Pepper Jack * Provolone
MP
Specialty cheeses (check out our Cheese Mart!)
Served with your choice of cup soup or side salad.
Du Hast mich bei hallo German Platter
3 sausages served over a bed of German potato salad, sauerkraut, red cabbage, and bread rolls. $19.99
"SOUTH" AMERICAN Golden Brown Chicken Dinner
Breast, wing, leg, and thigh broasted golden brown, served with choice of potato, coleslaw, and bread roll. $14.99 / All white meat $2.00 extra, Please allow 20 minutes.
TUES - Noodles and Tips
Sirloin tips, mushrooms, and brown gravy over a bed of egg noodles and a bread roll. $9.99
FRI - The English Dish Fish and Chips
Choice of battered and fried cod or walleye or broiled walleye or baked cod served with potato choice, coleslaw, and rye bread. $14.99
Enough for a greek freak Gyro Platter
Hand-sliced off the spit, with tomato, onion, and tzatziki sauce, served with 2 pitas and French fries. $14.99
MON - Mostly 'Merican Meatloaf
Our own recipe served with homemade mashed potatoes, vegetable, coleslaw, and a bread roll. $12.99
THURS - We Can - You Can - Mexican Prime Rib Tacos
3 tacos with seasoned prime rib topped with onion, avocado, and cilantro, w/ homemade salsa and chips. $13.99
SAT & SUN - A Wisconsin Food Group Prime Rib Dinner
Hand-carved and prepared your way, served with your choice of potato, coleslaw, bread roll and horseradish. $24.99/29.99
Choose 1 Entree
Choose any combination of 4 Brats and/or Sandwiches
Traditional, Cajun, Garlic, Veal, Cheddar, Jalapeno, Hot Dog, 7 oz Burger, Chicken Sandwich $32
12 Pieces Fried Chicken
3 of each piece, no substitutions $32
20 Bone in Wings
Your choice of 2 suaces (BBQ, Mild, Hot, Insane). Tossed or on side $27
Italian Beef Home Kit
2 lbs Italian Beef, 4 buns, 4 pieces of cheese and Au Jus $40
Choose 2 Sides
French Fries
Tater Tots
American Potato Salad
German Potato Salad
Homemade Coleslaw
Wisconsin Cheese Soup
Sharable Salad
Buy 1 Get 1 50% Off Take Out Pizza All Day Saturday and Sunday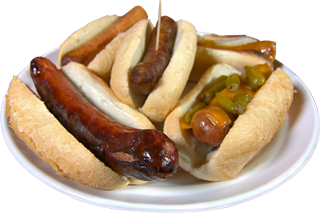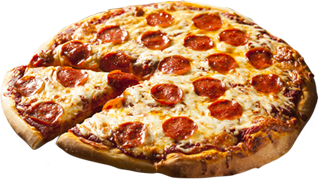 Handmade to order, please allow 15-20 minutes.
Mozzarella cheese, tomato sauce, on thin crust. 12" or 16" $10.99/14.99
Meat Add-ons
Bratwurst * Sausage * Pepperoni * Ham * Bacon Chicken $1.99/2.49
Veggie Add-ons
Mushroom * Onion * Pineapple * Green or Black Olive * Tomato * Green Pepper * Saurkraut $.79/1.49
House Salad
Iceberg lettuce, tomato, cucumber, green pepper, shredded cheddar cheese, croutons, and choice of dressing. $5.99
Add chicken for $3.00
Caesar
Romaine lettuce, red onion, shredded Parmesan, croutons, and Caesar dressing. $7.49
Chicken Chop
Romaine lettuce, blue cheese, avocado, bacon, hard-boiled egg, and a shallot vinaigrette. $12.99
Soup and Salad
Side salad with a bowl of soup. $6.99
Make it chili for $1.00 more.
Cheese Soup
"It's cheese. It's soup. It's cheesoup." $3.49/4.49
Soup du Jour
"It's the soup of the day." $3.49/4.49
Homemade Chili
Cheese and sour cream available upon request. $4.49/5.99
POTATOES & SLAW & CABBAGE, OH MY!
French Fries $3.49
American Potato Salad $3.49
German Potato Salad $3.49
Baked $2.99
Add cheese and sour cream for $1.00
Mashed $2.99
With or without chicken gravy
Side Salad $3.99
Kazue's Coleslaw $1.39
Sauerkraut $1.39
Red Cabbage $1.39
They quench your thirst!
Fountain Sodas and Teas
Large w/ refill $2.49, Pitcher $4.99
Coke * Diet Coke * Sprite * Root Beer * Lemonade * Iced Tea * Raspberry Tea
One glass per person
Get Juicy
Small 1.79, Large 2.99 / No refills
Orange * Grapefruit * Apple * Cranberry * Tomato
Canned Soda
$2.39 per can
Dr. Pepper * Diet Dr. Pepper * Orange * 7up * Diet 7up * Pepsi * Diet Pepsi * Mountain Dew
Sprecher's Bottled Soda
$3.29 per bottle
Root Beer * Cream Soda * Grape * Orange Cherry * Lo-Cal Root Beer
2% Milk
Small $1.99, Large $2.99
White * Chocolate
Hot Drinks $2.99
Hot Tea * Hot Chocolate * Coffee (bottomless cup)
Handmade Milk Shakes $5.00
Chocolate * Vanilla